iSpyETF
The April 22 Profit Radar Report highlighting this fascination AAPL (Nasdaq: AAPL) formation with the following commentary: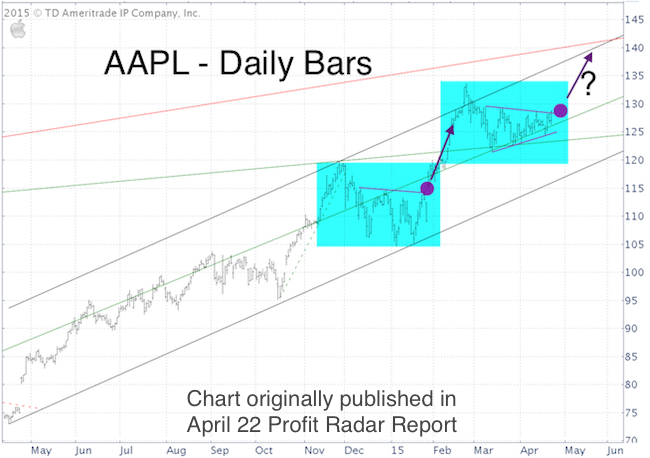 "AAPL, the most important stock in the world, hasn't been able to nudge the S&P, Dow Jones or Nasdaq in either direction. That's because AAPL is stuck in its own trading range/triangle. The consolidation pattern is similar to that of Q3 2014. AAPL closed at 128.62 today. This mini-breakout increases the odds of more upside."
Below is an update AAPL chart. The next meaningful resistance cluster is around 140, but the open chart gap (and various breadth divergences) allows for a 'digestive pullback' at any time. In terms of Elliott Wave Theory, any new high could complete a 5-wave move and result in a larger-scale reversal.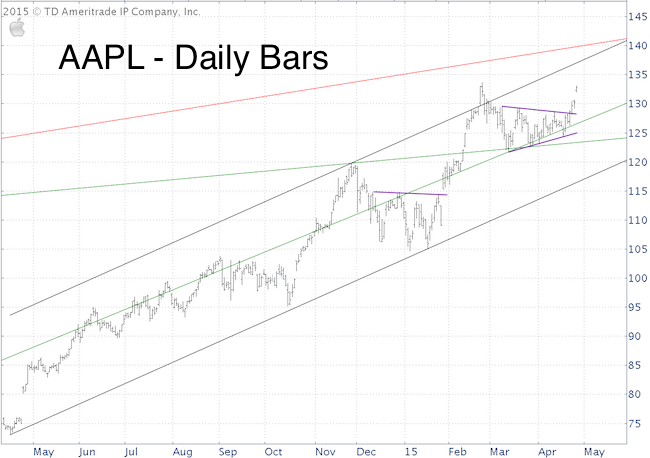 AAPL's pop also propelled the Nasdaq-100 and PowerShares QQQ ETF (Nasdaq: QQQ) out of a formation called a bull flag. More details here: Nasdaq QQQ…
View original post 104 more words